Free VPN are everywhere, and I have been using Windscribe here now and then. I stopped using it because I figured it would clash with AdGuard badly. But I am still subscribed to their e-mails because I am still their user. Usually I would see them sending stuffs like "We miss you.", "Ready to start again?". I would ignore them. But today I decided to read their latest updates, and I was kind of surprised.
The E-mail starts with introducing their browser extension's latest update. VPN, adblocking, geolocation obfuscation, that sort of thing. But then comes the real deal. Immediately after that, they introduced the latest feature: Opression Panel. They demonstrate the internet censorship in China by blocking access to some of the most used sites accessible otherwise.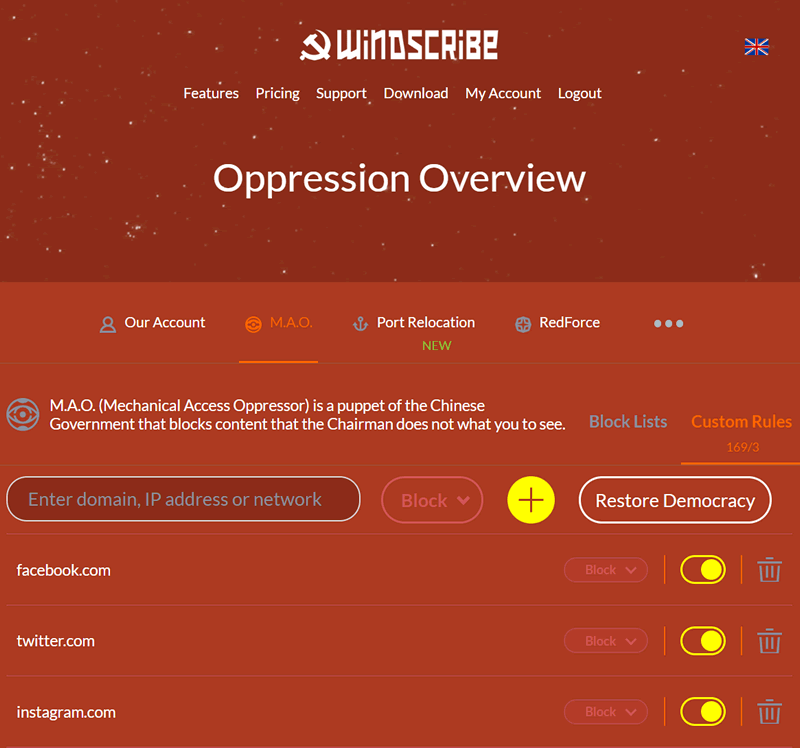 Welcome to the Internet as seen by people in China (and other heavily censored regions of the world). Most websites and services you use every day will now be blocked. Keep in mind, this is just a tip of the iceberg since we cannot simulate you getting arrested because you liked a Winnie-the-Pooh meme, or said a forbidden word on Weibo. You gotta go to China for the full experience.

Okay this is clear enough to show their stance on Chinese internet censorship.
And they made a statement, that they will stand firm, even the Chinese overlord demands that they bend to their knees.
Unlike the NBA, LeBron James, Blizzard, Tiffany & Co, Calvin Klein and Versace, Windscribe stands by its statement as we're already banned in China.
What's more, they announced in the letter that they would be providing 20 GB/month for Hong Kong users. (Normally they would get 10GB only). This is a nice approach by me, and I immediately subscribed to their premium plan.